Features of vacuum casting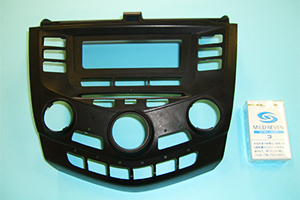 By vacuum casting using silicone rubber, reproduction of prototypes with polyurethane and epoxy resins
can be delivered precise, quick, and at low cost

.
Vacuum casting using silicon, the master model can be transferred, enabling quick delivery and low cost molding.
Available in vacuum casting for duplication of ABS, PP resin, and polyurethane rubber (colorable)
Copying of transparent products equivalent to acrylic resin is possible (colorable)
Vacuum casting enables simultaneous casting of inserts and out-insert parts.
(Insert brackets for screws, terminals, etc.)
Vacuum casting applications
Prototype for checking the function, shape, and color of vacuum casting
* When multiple identical products are required, etc.
Commercial and sales samples
For mold testing
Vacuum casting material
Polyurethane resin (ABS resin, PP equivalent)
Epoxy resin (equivalent to acrylic resin)
Polyurethane rubber (50 degrees hardness, 90 degrees)
Silicon rubber (30 degrees hardness, 70 degrees)
Transparent resin
High-cast 3550
(Vacuum casting material developed for prototype PE and PP)
Vacuum casting compatible size and delivery time
Flat product master size 1200×650×50 mm
Box master size 600×600×300 mm
After the master is completed, it can be ready in as quick as three days.
We have a large vacuum casting machine. The size of the vacuum layer is 1500 × 1500 × 1000 (large integrated vacuum casting of about 50-inch LCD televisions is possible)
Number of replicates in vacuum casting
About 20 polyurethane resins are available (by vacuum casting).
About 10 transparent products are possible (by vacuum casting).
Vacuum casting process
Receiving product data and drawings, and production arrangement meeting

two-dimensional drawings and three-dimensional data can be provided, from which vacuum casting is based.

Production of master model by programming and CAD/CAM

Create 3D data optimized from CAD/CAM from original data and drawings. Create a master model from the created data.

Silicon type fabrication using unique method from master model

The master model is transferred to produce a silicon mold.

Replication, finishing and completion by vacuum casting

A vacuum casting machine is used to create a duplicate. Finishing touches are provided and vacuum casting is completed. After the master model is completed, it can be ready in as quick as three days.

Measurement and inspection using three dimensional measuring instruments

CNC 3D measuring machines are used to measure contours, and high-quality products and measurement data are delivered together.
Delivering peace of mind!
Inquiries about vacuum casting products
Vacuum casting enables precision plastic products such as urethane and epoxy resins to be delivered in a short time and at low cost.
If you can supply specifications in the form of drawings etc, Kyoei Design can provide a quotation with the optimal materials and machining method.
For precision casting products, please feel free to contact us at Kyoei Design.
Contact Us